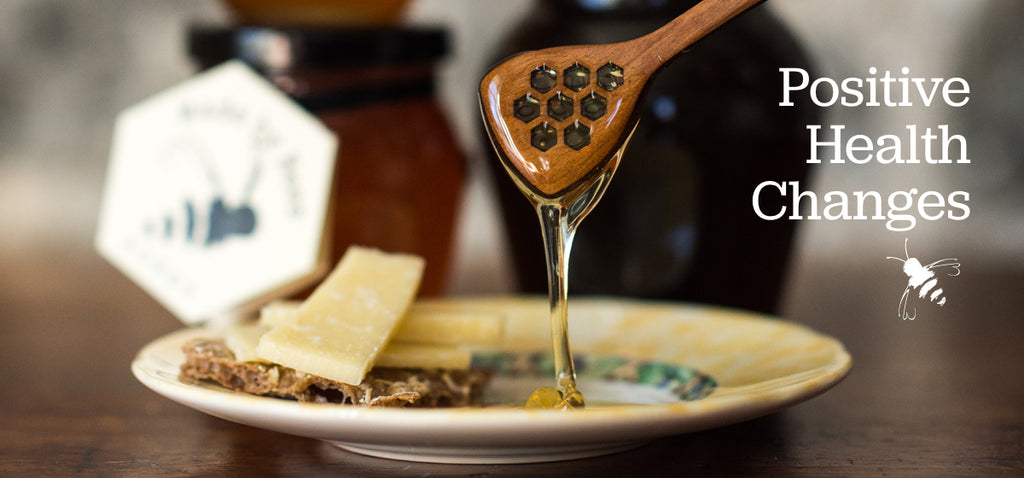 Honey has been part of the human diet from as early as 6000-8000 years ago when our Neolithic predecessors collected honey from wild bee colonies. Honey is delicious and can be used in a multitude of ways, but did you know that it offers some unexpected health advantages as well?
Honey has been proven to be high in plant compounds that offer health benefits and is a perfect alternative to refined sugars. Read more to learn how adding honey to your diet can bring positive health changes in a number of ways.


Honey Nutrition
Honey is rich in antioxidants, including organic acids and flavonoids, which are known for their anti-inflammatory and antioxidant properties. Antioxidants are said to reduce strokes, heart attacks, some kinds of cancer, and promote eye health.
Honey is good for your heart health! Studies show that it increases your blood sugar less than refined sugar and can help lower your (bad) LDL cholesterol, which is linked to heart attacks and strokes. Honey also helps to raise your (good) HDL cholesterol. It can also lower your triglycerides by up to 19%, which is important because elevated triglycerides are a risk factor for heart disease and are linked to insulin resistance—which can lead to type 2 diabetes. Other studies show that adding honey into your diet can help reduce your systolic blood pressure, which is another major risk for heart disease.
And one final helpful tip—say goodbye to springtime sneezing! Eating the pollen inside local honey can help build up your tolerance which can in-turn reduce allergies.
While honey does have many health benefits, it's important to remember it's still very sweet and mainly composed of glucose and fructose. One tablespoon of honey contains approximately 60 calories and 17g of carbohydrates. As with everything, moderation is key to enjoying honey and its health benefits.


Healthy Cooking with Honey
When incorporating honey into baking or recipes, there are some general rules you should follow:
Replace ⅔ cup white sugar with ½ cup honey

Add ⅛ teaspoon baking soda for every ½ cup honey

Reduce your oven temperature slightly when using honey

Add it to mustard to make your own honey mustard

Use it in your own salad dressings

Add it into plain yogurt
Integrating honey into your diet means you're choosing a healthier option for refined sugars. Honey can be used in a wide variety of recipes, you're only limited by your imagination.


Here are some easy substitutions for you to try:

Canning Fruit: 1 cup honey + 2 cups hot water

Freezing Fruit: Prepare fruit and pour over a honey syrup using 2 cups honey + 3 cups hot water. Leave room for expansion and crumple pieces of wax paper on top to keep fruit submerged.

Jams and Jellies: When a recipe calls for 4 cups sugar, use 2 cups honey. Cook for slightly longer; the consistency of your jam or jelly will be a little softer.

Pizza: Another great use for honey is as a finishing drizzle on pizza (especially if paired with a spicy pepperoni or salami topping).
Speaking of honey and pizza, we are excited to share that one of our favourite local restaurants is reopening for take-out! The Purple House in Gananoque is a fantastic women-run business that sources local ingredients for their wood-fired pizzas.




Beeswax Wraps 'Recipe'
Looking for another way to use bee byproducts? Beeswax wraps are a fantastic way to preserve your food without plastic waste. Use it to wrap up the delicious food you prepared and store it without using plastic!
Made By Bees wraps are made using beautifully patterned 100% cotton fabrics in a variety of sizes. If you're up for a fun DIY challenge you can try to create your own beeswax wraps or you can buy professionally crafted pre-made wraps here.