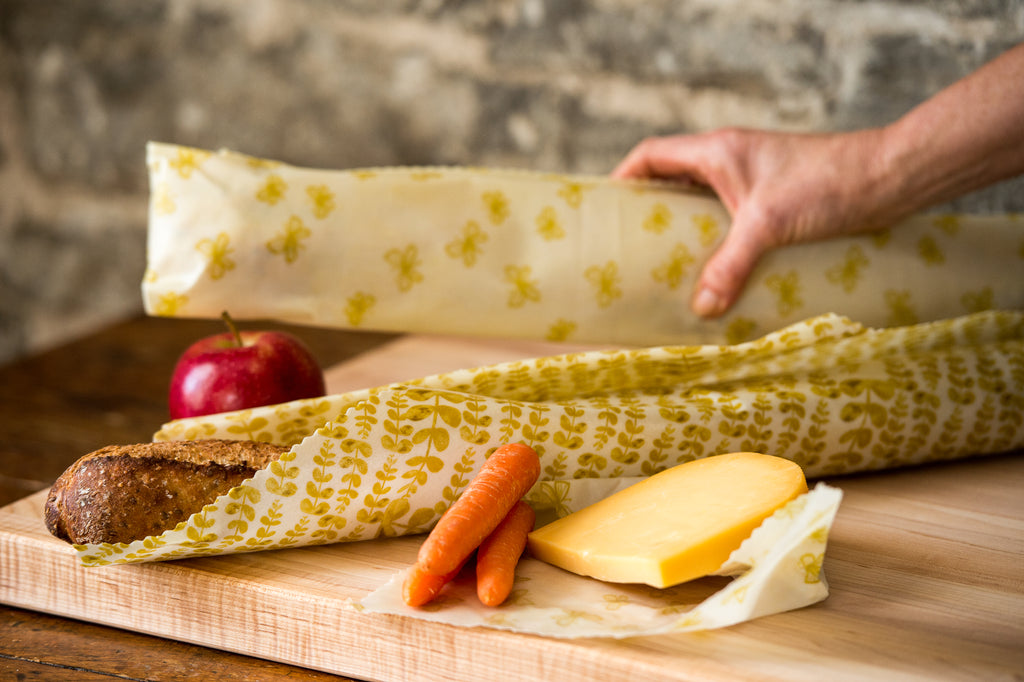 Incorporating natural products like beeswax sheets into your household routine can be easier and more creative than you might think. They can be used in a range of ways, and make a creative zero-waste gift that anyone can appreciate.
Beeswax sheets can be used for a lot more than just wrapping up those half-eaten avocados and apple slices. We've compiled the top 10 ways you can use your beeswax sheets daily to reduce plastic waste.
Replace Cling Wrap: Single-use plastics no more! Easily switch out your usual plastic cling wrap for a more eco-friendly and zero-waste option. Use beeswax sheets to quickly and easily cover cut-up fruits and opened jars or in any other situation where you'd reach for cling wrap.
Replace Plastic Ziplock Bags: Fold a smaller beeswax sheet into a container for nuts, berries, fruit slices, and other snacks. When you're on the go, a spare food wrap is great for containing half-eaten apples, pretzels, snacks for your dog and more. For larger items - just grab a larger beeswax sheet! Fold it around your sandwich, wrap, or burrito. If you're at the store you can use food wraps to hold fresh produce, baked items, and breads.
A Wrap or Smoothie Straw: Reusable straws are becoming more commonplace but it is easy to forget to bring one or forget to clean it. A small beeswax wrap can be quickly rolled into a straw, and when you're done can be cleaned up easily by unrolling and rinsing with soap and water.
Wrap Up Soap Bars While Traveling: Heading out of town? Wrap up your soap bars, or even the tops of shampoo or lotion bottles to protect other items inside your suitcase from pressure change explosions! Plus, you now have a beeswax sheet with you on vacation to help reduce your plastic use even if you're on the other side of the world.
Cover Jar Lids: Can't find a mason jar lid? Instead of digging through your drawers, just grab a beeswax sheet. You can use them to cover jar tops to protect items in the fridge, or even for fermenting foods - just make sure your wrap is long enough to extend down the sides of the jar to create a good seal.
Bring Your Used Lunch Cutlery Home:

 

Use your beeswax sheet instead of letting your dirty fork roll around inside your lunch bag, or using a plastic bag or paper towel to transport it.
Seal Opened Wine Bottles:

 

Instead of struggling with a wine cork or searching for wine toppers, just pop a wrap over the top of half-finished wine bottles. With a proper seal, you can transport them without worrying about spills.
Open Tight Jar Lids: Open up those stubborn pickle jars in a snap with a beeswax wrap! Their waxy coating provides the perfect grip.
Wrap Fresh Flowers: Giving flowers is a wonderful gesture, but they usually come with an awful lot of plastic and wasted paper. If you use a large beeswax wrap instead, you're now giving two gifts in one! If you bought or made your beeswax sheet in a colourful fabric it will add to the beauty of fresh flowers.
Line Cupboards or Fridge Shelves:

 

Lining your cupboards, drawers, and fridge with beeswax sheets makes cleaning up a breeze and keeps your kitchen bright, beautiful and filled with the delicious scent of beeswax.
Choosing to give a zero waste gift like beeswax sheets is always a great choice. Introduce someone to the idea of beeswax food wraps, or encourage those who already know about them to continue to use them as a plastic alternative. Natural products are becoming more popular as our social focus shifts towards a more sustainable future.
Pick out some beautiful beeswax sheet designs and you'll convert even the most cling wrap reliant person.