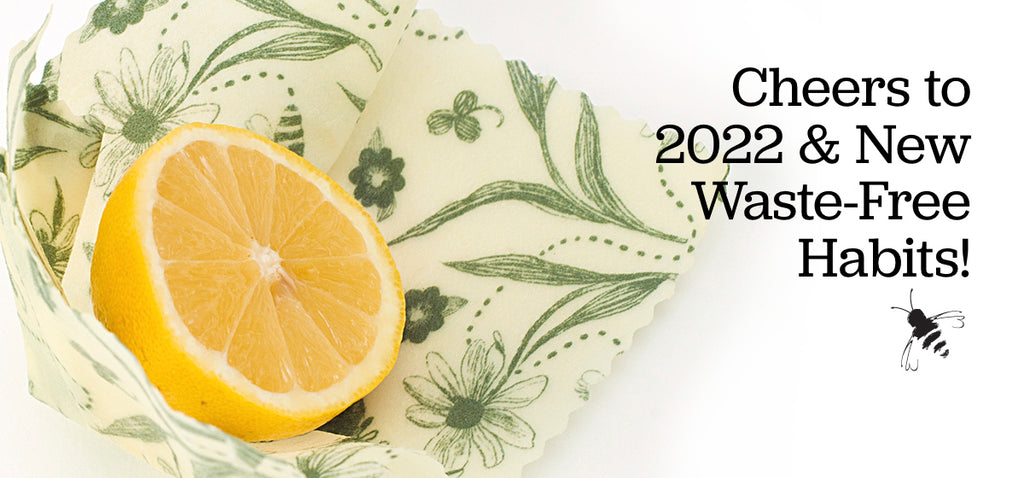 You might be wondering what all of the buzz is about when it comes to beeswax wraps. Well, if that's the case then today is your lucky day because we're going to talk about the benefits of storing your food in beeswax instead of plastic! 
"The average United States family uses 500 Ziploc bags each year. With an average family size of 2.8 people and 325,719,178 people living in the United States (as of July 2017), that means that the United States alone uses an average of 58,164,139 Ziploc bags PER YEAR." (Design Life-Cycle)
How upsetting is that?! We NEED to reduce our use of "single use" products. 
The good news is that consumers are more mindful about waste than ever before and it truly is the little things that we do collectively that will help make a difference!


One waste-free habit you can get into in 2022 is using beeswax food wraps to keep your food fresh (and add some colour to your kitchen!)
What are beeswax wraps? 
Beeswax wraps are a natural, plastic and waste-free alternative to traditional cling wrap and plastic/freezer bag products. You can use them to seal your food sweetly AND sustainably (that's why we like to call them beeswax FOOD wraps!)


How are beeswax wraps made? 
Our beeswax wraps are individually handmade by infusing 100% organic cotton with pure Canadian Beeswax, Pine Tree Rosin, and Organic Jojoba Oil. Here at Made By Bees, we design all of our own fun patterns, too!

View our new wildflower pattern 

How do I use my beeswax wraps? 

You can use them any way you would use plastic wrap! All you have to do is:
• 
Warm the wraps up with your hands (so the wrap becomes malleable). 
• 
Shape or mold the wrap around a piece of food or a bowl for leftovers.
• 
Additionally, you can fold the wrap into a pouch so that you can easily bring items like granola to work! 
• 
Beeswax wraps can be washed in cold water with mild soap, as needed. 
• 
Air dry, fold or roll, and
store for multiple uses
! 
 *Do not heat the wraps or use them to store raw meat. 

What are the benefits of using beeswax wraps?
1. They will keep your food fresher for longer! 
Beeswax is more breathable than plastic—so it keeps your food fresher for longer. This will not only reduce your food waste, but it will save you time and money (and saving trips to the grocery store is a real win if you ask us!). Try wrapping a lemon, cheese, half of an avocado or onion—you won't be disappointed!

2. They will save you money.
Our reusable beeswax wraps (when given the proper care) can last up to a year! Imagine how much money you'll save if you're not buying single use plastic bags for your (many!) leftovers. Our beeswax wraps are beautifully designed as well—so they'll add a little colour to your life!
3. They are easy to use and care for.
Our beeswax wraps can be easily added into your day-to-day! They are convenient, easy to use, and they even come in different sizes. Plus, you'll be pleasantly surprised at how easy/quick they are to clean. When needed, just wash under cool, soapy water and leave out to dry!
4. They are biodegradable (compostable) and reusable.
After about a year, you'll notice your beeswax wrap will feel less "sticky", which will mean it might be time to retire it. You can simply bury or compost it, or, use it as a firestarter if you wish!
Another great option is to refresh your wrap by using our beeswax formula! 
5. They help the environment. 
Making small changes in your lifestyle is actually a big deal. Any positive change we make to our routines, such as reducing waste or using sustainable products versus single-use products is great and will have an impact on the environment. 


We might be a little biased but our customer reviews say it all! The wraps may take some getting used to because habits are hard to change, but don't all good things take time? Make the swap today—bet you won't go back. 

Shop Beeswax Wraps