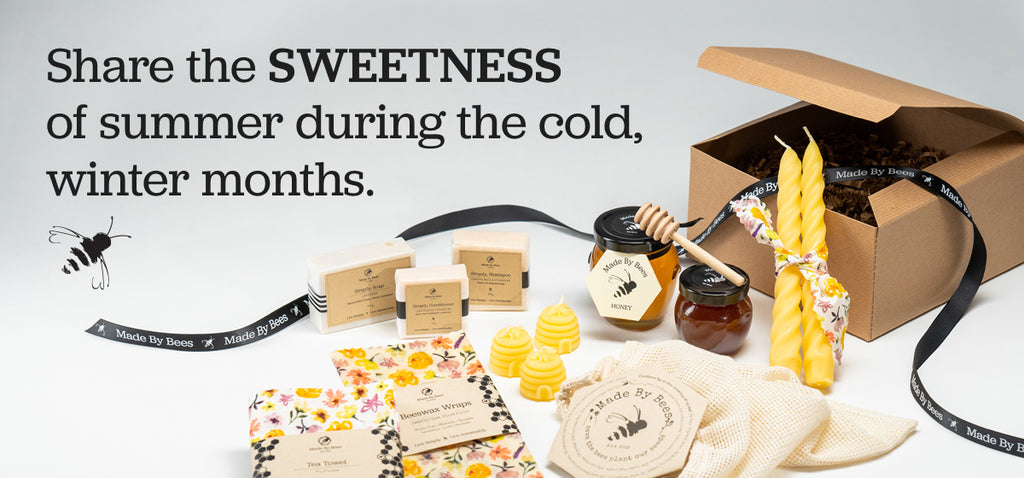 If you're like most business owners and managers, you're probably thinking the same thing you do every year...is it really worth giving out corporate gifts this holiday season? Should I even bother? It's time-consuming, costly, and usually a bit of pain to organize. 
Here's the thing, though. Gifts are a simple way to show your team or clients that you care, and more importantly, that you appreciate them. 
They say a happy team is the most productive team, and here at Made By Bees, we know that to be true. So, we're sticking with it! 
Here are the top 3 reasons to give a corporate gift this year (and every year). 

1. It Will Raise Employee Morale
Your team works hard all year around—and for most companies, the end of the year (right before the holidays), is actually the busiest time. So, why not end things on a positive note? If nothing else, it will make them feel good about coming back and they'll think and speak positively about their workplace during their time away. 

2. It's Less Expensive Than The Alternative...
Your employees need to see and hear that they are appreciated. It makes a difference in the quality of work you will receive from them day in and day out. Treat your people right and they will treat your customers even better. 
Plus, when you think about it, a gift basket is less expensive than unhappy (and therefore, unproductive) employees and high turnover. 

3. It Will Help Foster a Healthy Corporate Culture 
You have the opportunity to nurture the relationships that exist within the realm of your business. It's important that anyone that does business with you or works within your organization has a positive experience. A corporate gift is not going to change a negative work culture, but it could make a positive one (or a pretty good one) even better. A gift says "thank you" and implies that the relationship is valued and that it's more than just a "transactional" business relationship. Which it should be. 
And a meaningful gift at the holidays can set the tone for the upcoming year. So why not make it count?


Need some inspiration?
Here are some unique corporate gifts that are quick and easy to buy—but will make your team smile for weeks to come. 

Flavour Infused Honey
Our honey is raw, meaning it is always unpasteurized and minimally filtered retaining its natural properties and antioxidant goodness. It also tastes delicious and comes in many unique flavours!

Shop Now

Beeswax Food Wraps
Our beeswax food wraps are popular for a reason! They are perfect for leftovers, snacks, storing cheese, wrapping a sandwich, or covering a bowl! Our versatile, plastic-free beeswax wraps are a natural solution to food waste and plastic pollution. Food can be sealed sweetly and sustainably. 

Shop Now

Beeswax Candles

Our 100% pure Canadian beeswax candles burn 3x longer than paraffin candles and contain no artificial additives, fragrances, or paraffin. As it burns, pure beeswax purifies the air from mould, dust, and allergens. How cool is that?!

Shop Now

Food-Grade Cutting Board Wax
Made with pure Canadian beeswax, this simple yet effective blend works wonderfully in restoring natural shine to prized wooden possessions, keeping them looking and performing the way they should, prolonging their lifespan, and preventing damage from food or water. Ideal for use on butcher blocks, cutting boards, knife blocks, salad bowls, cheese boards, and more!

Shop Now

Plastic-free Soaps, Shampoos and Conditioners
We've got handcrafted personal care products that were made for pampering and relaxation! Items like shampoo, conditioner, and soaps are available in lovely scents like lavender and lemongrass. And for those who prefer to go unscented—we've got that too!

Shop Now

Swedish Dishcloths
A hybrid between a paper towel, a sponge, and a dish towel, these wonder-cleaners made of cellulose and cotton absorb 20x their weight and are resistant to bacteria growth, all while being environmentally friendly and sustainable.
It is estimated that a single Swedish dishcloth replaces up to 17 rolls of paper towels and can last up to a year depending on use. How's that for eco-friendly?!

Shop Now

Reusable Organic Cotton Mesh Produce Bags
Multi-use mesh drawstring produce bags eliminate the need for single-use plastic bags and are perfect for storing fruits or veggies. Plus, they look nice and the designs are fabulous!

Shop Now




Want to make gifting EVEN EASIER?!
We've also got an assortment of lovely gift baskets that were simply made for gifting. Check out our Gifting Lookbook so you can get the scoop on what's inside!
Ordering is easy and we offer customization, too!

View Gifting Lookbook
Why Choose Made By Bees for Your Corporate Gifting?
It's easy! We create local, all-natural, honey and beeswax products. Each item is beautifully packaged and eco-friendly. 
Need more reasons?


Our products are sustainable so you'll feel good about gifting them, and your clients/employees will appreciate the quality, handmade products from the hive.





Basket customization is available—let us know if there are particular items you would like to swap in or out!




With every purchase, we will be donating 2% to the Tech-Transfer Program (research arm of the Ontario Bee Association) so that they can continue to conduct important research for the beekeeping industry. Their goal? To transfer key skills and information to Ontario beekeepers. 
Happy Gifting! Your employees (and your soon-to-be happy customers) will thank you!
---
At Made By Bees, we take pride in our sustainable products and our pesticide-free property that is located just outside of Brockville, Ontario. 
Let's take steps together to save our bees, the planet, and your food. 
Phone: 613-349-1965
Email Priscilla Today for More Information